Building Community: The Work of Eskew+Dumez+Ripple
An architectural monograph for a New Orleans-based design studio. Through an analysis of works by Architects Eskew+Dumez+Ripple, this book seeks to pursue the role of the architect as community builder and shaper of human experience in addition to their physical impact on the built landscape. A first monograph for the firm, the book introduces the Studio's unique, personal and careful approach to the design of buildings of their own time and place within the culturally rich environment of New Orleans and the Deep South region. MARKETING OBJECTIVE: As a firm operating outside of the design tri-fecta of New York, Los Angeles, and Chicago, we have to make a concerted effort to maintain constant presence in the eyes of the national industry players. This book publication medium was one where we saw much opportunity in the way of establishing a stronger name for ourselves on the national level, particularly outside of our home market of New Orleans.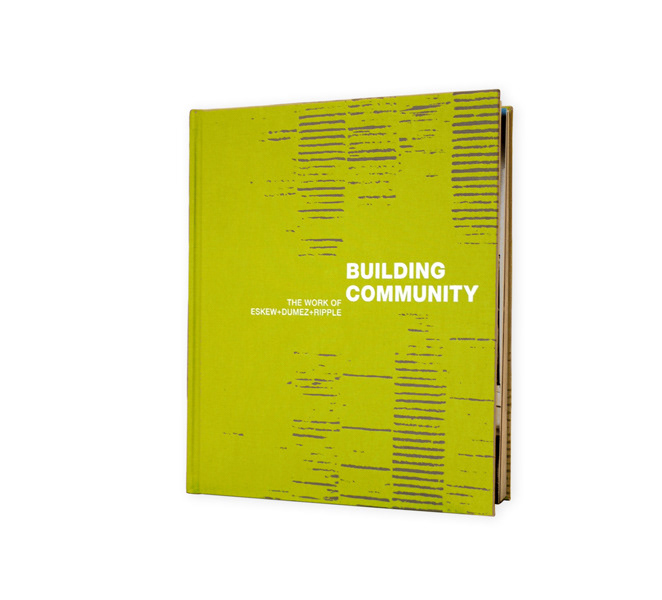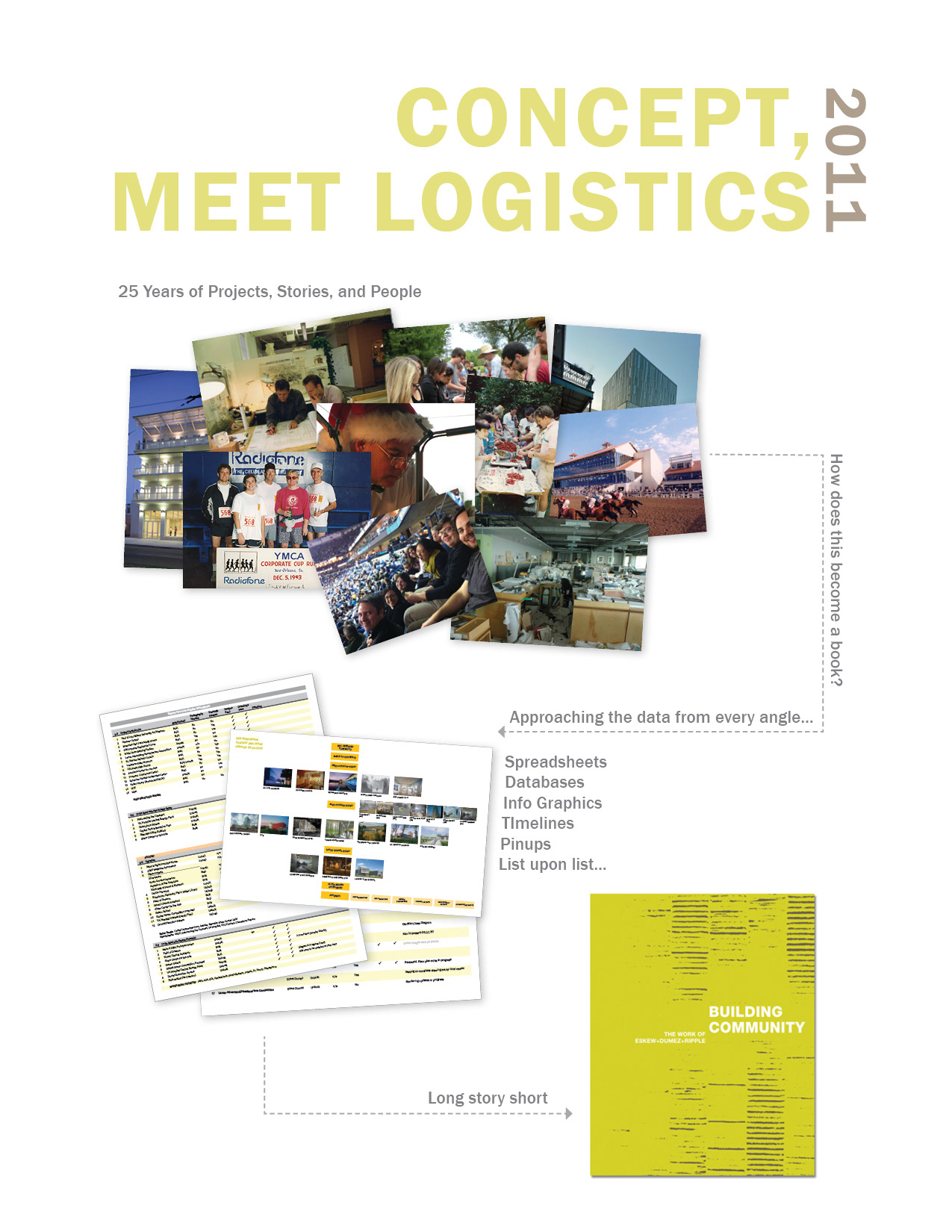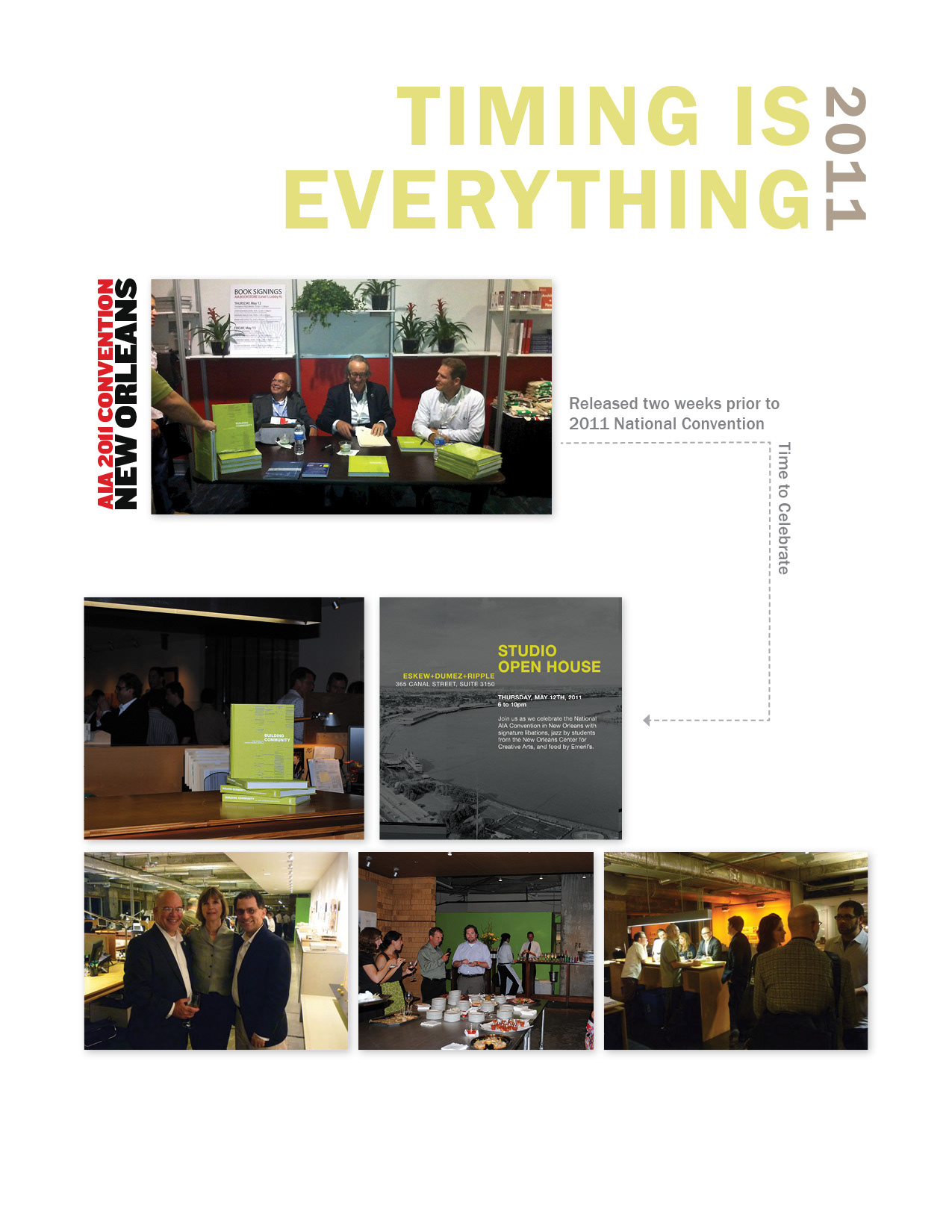 PROVEN RESULTS
Since the publication of this book in April 2011 we have achieved several things immediately, with expanded results continuing on an ongoing basis:
A feature editorial on the high profile industry blog Archdaily.com and a major mention in the Architectural Record June 2011 Letter from the Editor.
Sales of more than 5,000 copies (the entire first print) through distribution channels around the globe including major outlets in Asia and Eastern Europe, as well as throughout the United States.

Increase in community-wide brand awareness through key book signing events in New Orleans at the Octavia Books bookstore, and the Ogden Museum of Southern Art.

Increase in industry-wide brand awareness through prominent book placement in the AIA National Convention Bookstore as well as a highly publicized book-signing event at the 2011 National Convention as well.

Increase in past-Client contact through the personal distribution of more than 500 autographed copies.

Subsequent invitations to be featured in two additional monographs in Italian, now completed, and Chinese, currently under production.